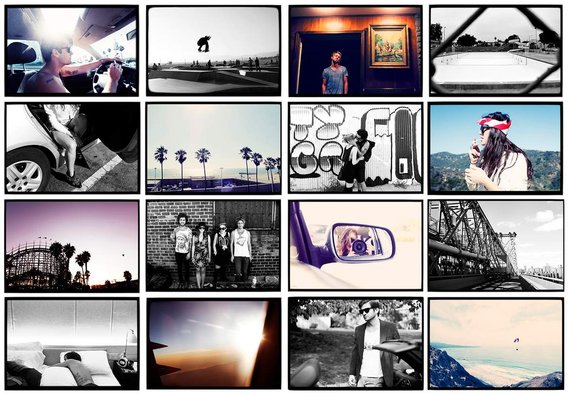 "This Is My United States Of America" photo collage of Elle's summer 2010 trip to the West & East USA. She toured with the band SWIMM (formerly known as Le Blorr) whom she met in Tokyo, JP a year prior. They drove from the band's home town in Cocoa Beach, Florida (slept awkwardly in their van at a service station somewhere in Georgia overnight) to stay at the lead singer Chris Hess's vacant grandparents home in Morristown, New Jersey. There Elle documented the duo's forthcoming EP with trips to New York frequently playing shows and Elle taking it all in.
Elle also spent time in San Francisco attending Outside Lands Music Festival and tripping around Southern California from San Diego to LA capturing all the sights.
Elle made this artwork to hang in Bondi Beach cafe, Porch & Parlour with a vintage timber photo frame she found at Vinnie's and framed it herself.
Elle Green x Totem Road
From 2019 to 2021 Elle had her California Desert series hanging in Paddington's Totem Road Sustainable Furniture store.
Volcom x Elle Green / Hurley x Elle Green Photo Tees. Elle's photos, designed by Volcom & Hurley